Actions that are protecting the food chain and supporting our communities (March - April 2020)
Our teams, locally and around the world, have taken action to continue our mission to serve farmers and protect the food chain during the COVID-19 pandemic.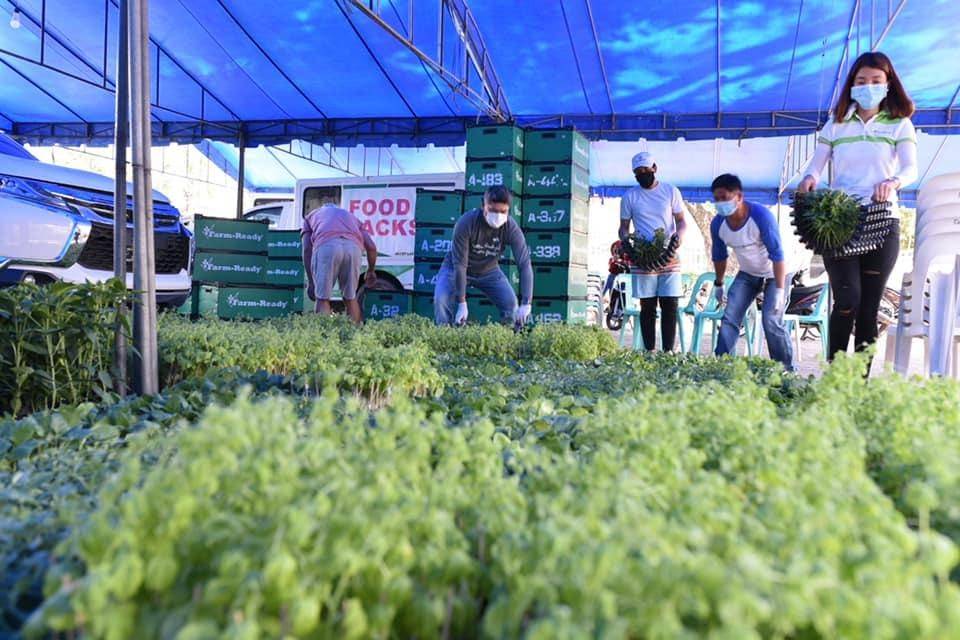 See the latest updates for May - June 2020 here.
THE PHILIPPINES - Seedlings and Seeds Donation to COVID-19 victims
East-West Seed Philippines (EWPH) and Farm Ready (EWS' professional seedling nursery arm) are working in collaboration to support municipalities and a nonprofit organization to help ensure food security for the people in need and impact during the enhanced lockdown. The donation was made to 7 municipalities and one foundation in the Philippines.
*Article continues below video
This week and for the next 3 weeks, EWPH is launching online learning sessions on Facebook for farmers and urban gardeners. This week are launching the following lessons:

Container Gardening to be hosted by EWS Foundation

Live Q&A Session on Backyard Garden Pest and Disease Management by Plant Pathology Team

Vermicomposting for Farmers by EWS Knowledge Transfer
----- Other EWS activities around the world:
THAILAND - Growing Sustainable Food
East-West Seed Thailand (EWTH) held the MoU signing ceremony in our BBT head office to announce a Public-Private Partnership to encourage households in 76 provinces countrywide in growing their own food for a sustainable future. The purpose of this partnership is to support Thai people to have a sustainable food source at their homes during self-isolation or quarantine time during the COVID-19 situation.

East-West Seed provides various vegetable seeds in over 45,600 pouches to households with the distribution support from The Department of Community Development under the Ministry of Interior, Thailand. EWTH also receives an overwhelming response from media and influencers on the project with full collaboration to distribute vegetable seeds further to their local communities.
-----
INDONESIA - We are part of the community

West Seed Indonesia (EWINDO) initiated a fund-raising committee and collected donations from employees and a company top-up contribution.
The donation is used for supplying PPE suits for medical personnel in Purwakarta and another nearby EWINDO facility.
Our Indonesia office is also preparing East-West Seed masks distributing for all employees and farmers. The employees are also providing groceries to the surrounding community.
-----
India - Distributes 40 tons of Food to 10,000 Beneficiaries
East-West Seed India, in partnership with Rotary Club of Aurangabad, distributed 40 tons of food kit
contained wheat flour (5kg), rice (3kg), Toor dal (1kg), sugar (1kg), oil (1liter), peanuts (500 gms), salt
(one pack), two body soaps, and two detergent soaps.

This 10,000 beneficiaries across sent seven villages in Maharashtra in response to the COVID-19
lockdown. A diligent team consisting of Rotarians, East-West Seed employees, village volunteers,
Sarpanch, and Gram Sevaks helped with the distribution of these kits in the villages. The local police
station also played an essential role in maintaining social distancing.
Staying connected from a distance
East-West Seed India (EWIN) successfully connected virtually to about 2,300 farmers in 3 days via their e-connect concept to sustain farmer engagement through skills enhancement during the lockdown period. This initiative helps farmers to be able to reach out to our EWS experts in any farming issues or even reaching for seeds supply to ensure and sustain the food chain in the country.
-----
Vietnam - Ready to support farmers

East-West Seed Vietnam boosted imports from sister companies as well as other supplies such as packaging, labels, cartons etc. The plant team stepped up their efforts and worked tirelessly throughout the weeks to ensure a sufficient amount of finished good to serve farmers' needs for over a month.
All teams coordinated closely to encourage more deliveries to the dealers, which led to dealers being able to adapt to at least 2 weeks of farmers' demand.
The sales team also committed to reaching out to 30 farmers each per day via digital communication platforms.